05 Lug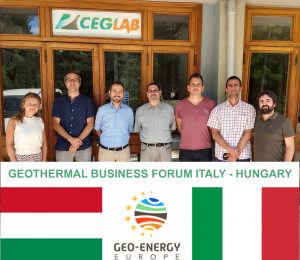 COSVIG-DTE2V and CAPES clusters launched the Geothermal Business Forum Italy – Hungary to increase international matchmaking opportunities of SMEs
The initiative promoted by both clusters was launched in Larderello (Italy) last 29 June 2022
The Geothermal Business Forum Italy – Hungary was launched during the visit of delegates from CAPES (the Hungarian Cluster of Applied Earth Sciences) to the CEGLab (Laboratory of the Centre of Excellence for Geothermal Energy – Larderello)  of CoSviG (the Consortium for the Development of Geothermal Areas), the managing body of DTE2V (the Cluster on Energy and Green Economy of the Tuscany Region). The initiative was jointly organized by the two clusters DTE2V and CAPES, within the European project GEO ENERGY EUROPE (GEE2) co-financed by the COSME program of the European Union.
The main objective of this event was to foster the mutual knowledge and the creation of collaborations between members from the two clusters operating in the geothermal sector. Companies will have the chance to meet virtually until the end of July contacting secretariats of their clusters DTE2V (segreteria@dte-toscana.it) and CAPES (info@capes.hu), which will organize specific business matching meetings.
The launch event was held both at the CEGLab and online, to allow all member companies to participate. Opening welcome greetings from CoSviG-DTE2V were followed by speeches from representatives of both organizing clusters Dario Bonciani (CoSviG-DTE2V) and Ferenc Fedor (CAPES), who provided overviews of their clusters and geothermal markets in Italy and Hungary.
Italian geothermal companies presented their activities, with speeches from Alice Ciulli (IdroGeo Service Srl) and Matteo Quaia (STEAM Srl). These were followed by Hungarian companies, with speeches from Ferenc Fedor (GEOCHEM Ltd.), György Márton (Logframe Ltd.), Krisztina Reisz (Rockstudy Ltd.), Domokos Pàsztor (Geort Ltd.), Geza Worum (Geomega Ltd.) and Mate Koba (Unexmin Georobotics Ltd. (UGR)).
The event was closed with an interactive session, during which participants exchanged information, to deepen on collaboration opportunities, as well as existing barriers and opportunities on the internationalization in their respective countries.
RECORDING OF THE EVENT:
PRESENTATION:
Send an e-mail to segreteria@dte-toscana.it and info@capes.hu to obtain more information on DTE2V and CAPES cluster members.